Your Score Matters is the 8th episode of
Battle For J City
.
Plot:
Cold open:
Bebe finds a Dictionary when finding money and reads it.
Joshua Speaker Box appears and announces the challenge.
Contest:
The Challenge was to play video games on a phone.The TV read:
1st:Droid
2nd:Pingu
3rd:Bebe
4th:MHC
Since Droid won the contest,he received individual Immunity.
Votes:
It was an eliminated contestants vote.
Moving Head Cranky :4 votes
Pingu:0 votes
Bebe:4 votes
Tiebreaker challenge:
Since Bebe got a higher score, she is safe and Moving Head Cranky got eliminated.
Stinger:
The current eliminated contestants turned evil and got out of Sharky and trapped him.
Gallery:
See Your Score Matters/Gallery for more photos.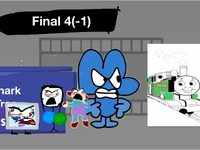 Transcript:
Community content is available under
CC-BY-SA
unless otherwise noted.