since no one joined i cancelled it
---
welcome to the wonderful camp, YOU ARE REQUIRED TO SIGN UP, sign up as whoever you want
How the camp works
there are 16 contestants with 4 teams of 4, each contestants start with 100 points, with each challenge the winning team gets the most points, while the bottom team are put up for elimination
Rules
If you get eliminated, there will be chances to re-join the game. So stay tuned!
This page will announce the challenges and I'll leave links to forms where you will submit your answers.
Confessionals can be sent between results and eliminations.
The camp will be viewer vote, though there will be a couple contestant votes.
If you don't do a challenge, you will get a strike against you. If you get 3 strikes, your contestant will be put up for re-sign-ups.
No cheating will be tolerated.
No leaving please.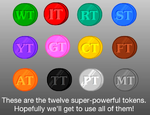 i hope you agree with these rules coz if you dont i will come after you
you've been warned
good?
ok, NOW SIGN UP!
Teams
Team 1
Team 2
Team 3
Team 4
Contestants
Community content is available under
CC-BY-SA
unless otherwise noted.