This user is currently blocked. The latest block log entry is provided below for reference: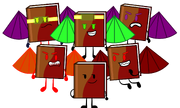 Female
To-Do: Fill "OCR Character List", Journal's title is "Doppler Times issue June 1996"
Stub of my template
List checker
Object CrossRoad Characters
Object Central Characters
Host
Dormitory
Students
Spicy
Orange Fries(OF)
Snow Dough(SD)
X-Piece
Teachers

Burney, Mistakey, Kerovee, Hatter, Wander, KeyBlade, Fez, Aviutl, Tardis, Ethyl
Pasteleze's other Characters
Object Tuber
Brother, Sister

Flashe, Lighten, Noel

6CR Main
Others
Pending
Pages did not exist? This list is adopted by Laclale
My fanfic
My signs
First sign. *Laclale*
Added talk page. *Laclale*(♪)
Troubled in CRLF.*Laclale*(♪)
My other Wiki
My confirm user
Community content is available under
CC-BY-SA
unless otherwise noted.