HI BTB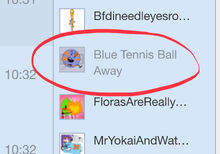 I saw you on chat that day.
My aquaintences
BattleReviews
FlorasAreReallyCool228
Fan of Grassy
Cutiesunflower(possibly)
Hollytang
TheBalsaWoodChild(possibly)
Blue Tennis Ball(possibly)
Bfdineedleyesrockyno(possibly)
My enemies
MollyBee and sockpuppets
Bokurei the Phanthup
TheBalsaWoodChild(formerly)
Fusions I made up
Fusion: Cutiesunflower
Objects needed
Object 1: Flower
Object 2: Grassy
Object 3: Rocky
How to fuse
fuse Flower and Grassy.
Fuse the result in step 1 and Rocky.
Fusion: Blue Tennis Ball
Objects needed
Object 1: Tennis Ball
Object 2: Teardrop
Community content is available under
CC-BY-SA
unless otherwise noted.