Hello! I'm ButterBlaziken230, a Fandom User who really likes Object Shows! Welcome to my profile. If you want to ask me about anything you find on my profile, do so! I love talking to people here.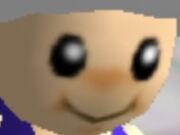 Personality
Good Things
Very nice and rarely angry
Super active
Creative
Bad Things
Sometimes overreacts
Used to spam
My OCs
The list of OCs used to be here, but since I have too many OCs, it has been moved to the page ButterBlaziken230's List Of OCs. If you want to use OCs, you must ask. However, Question Box is not allowed to be used as he's my main OC. For any other characters, they can be used as long as, yet again, you ask.
Also, give credit, please.
Relationships
Friends
Best Friends
Chikako The Meowstic: He's a pretty nice person, and he rejoined the wiki after inactivity for 2 years. He's also a really good admin who blocks people who annoy me, which makes me really happy. One day I hope to be an admin like him!
That1Account: He's a really active and friendly dude. He's been really kind to me on this wiki and I think he'll fit in well, considering he's a pretty new user. Nonetheless, he's a really epic dude.
Good Friends
SarancthaTFFM: She/He did an amazing redraw of all my OCs (Apart from Orange Entity, Evil Ghost Leafy since I don't count them as OCs, and all the OCs after Firey Picture since they didn't exist at that point) and is just a generally nice person!
Cutiesunflower: One of the only people who voted in my show and she cleans up the wiki since she's admin. She did a mass deletion once and it was amazing.
Parallelogram124: He often draws my OCs, and was one of the only people to celebrate my return in late August 2019. He's a really positive and nice guy with good drawing skills.
Flaming Hot Toons: Posted inappropriate content and hated on my friends, but he was forgiven. He was upset because I put him in my enemies, so I added him here.
HarrisTsang720: Super nice to me on the forums, and that's all he really does. He's a forum-only user, but it's nice to rp with him.
Shanemulrooney: Nice and respectable guy who I used to dislike. However, he's now a friend of mine. I probably overreacted about the bad things he did and as Vemsa said, "Butter was hungry for drama as always".
WheeliumThe2nd: He's a pretty nice guy. He helps out people by blocking users. He's pretty good for a new admin.
DarkRookYT: He's a really nice dude who really likes hurt and heals, especially Weird and wonderful space Hurt and Heal. He even made his own! We also sung the DK Rap on Object Whatever on Roblox while rping as Coconut Gun.
Ladyviking22: He has a pretty cool object show, called Battle For the Infinite Dollar. I've helped him out with it. He seems pretty nice, too.
Vemsa: We have a habit of getting into arguments over minimodding and overreacting, but we're past that now. We'll hopefully stay friends from now on.
Neutral
Mobizen4: Just a less active clone of HarrisTsang720. There could be some evidence to Mobizen4 being a sock of HarrisTsang720, but I doubt it. Mobizen4 hasn't really done much to me to be counted as my friend. He used to make inappropriate jokes, but stopped.
Cherry is alive: I used to hate this guy, but he's not faking suicide and not an edgelordy annoyance like I had said before.
Enemies
Halee2009: He/she stole my OCs and edits my pages without permission. He/she was unblocked after a while, and edited my pages without my permission EVEN MORE! Oh yeah! Did I mention she was underaged?
Jmanthanks: Has little common sense, and is really annoying. I once told him to not break the rules, and he said I INSULTED HIM! I never did that, though. He's like if Halee2009 left messages on people's talk pages. However, Halee is worse.
TheMarioOfficial: He said he would find me and kill me, which made me very angry. He also is an extreme edit farmer.
QurryQuser: Basically the modern version of PizzaCat. He came back in around March 2020 to try and repent. Things were fine until he started getting blocked in certain places. Firstly, he made a death threat and got striked for it on the Numberlemon Wiki. Because he thought he was a cool guy who repented, he tried to remove his strikes until he was blocked for strike removal. He also was making spam characters in a roleplay and upon talking to him, he treated me like nothing because, y'know, he's 'the cool guy who repented'. He literally wants everyone to bow down to him because of a lie, that being that he's repented, although he really hasn't at all.
Blue86400: He makes Mary-Sue OCs, steals others' OCs for his own work with lack of credit or anything, but apart from that, he's pretty nice. Did I mention he acts underaged, complaining about someone using a word he didn't understand, even though he could've looked it up on the internet (don't make the claim he doesn't have any technology - he was using a device to say that)? He also cares WAY too much about Blue Ball. If someone kills his precious OC, he leaves, even if it's part of an RP or something.
BigNumbersFan2/Pizzacat: He was my friend for a while, but he started doing bad things, like making pointless pages. He then straight-up was rude to someone on his wiki who just wanted to edit, which got me a bit angry. Like most users, he assumed he was right, and constantly tried to get away from me at all costs. He's so mean! He's also now a mass vandal on several wikis, being despised by the Numberblocks community and parts of the BFDI community.
How Active Am I?
Okay, so in here you can find out how active I currently am.
All Levels Of Activity
Level 5: I am extremely active on this wiki. I will go in live chat if you tell me to, am extremely active on the forums, and make OCs pretty quick.
Level 4: I am very active on this wiki. I might go in live chat, am pretty active on the forums, and I make some OCs a day.
Level 3: I am active on this wiki. I probably won't go in live chat during this level, am active on the forums, and make an OC or two.
Level 2: I am not very active on the wiki. I won't go in live chat, don't go on the forums very much, and I probably won't make many OCs.
Level 1: I am very inactive on this wiki. I won't go into live chat, am inactive on the forums, and won't make many OCs. However, I'll still respond to messages and leave comments on pages.
Level 0: I am taking a break from this wiki. However, I am active on other wikis.
Level -1: I am taking a break from Fandom altogether. I will come back some day.
Status
Level 2.
Templates I've made
| | |
| --- | --- |
| | THIS USER ABSOLUTELY ADORES QUESTION BOX WITH EVERY CELL IN THEIR BODY, LIKE BUTTERBLAZIKEN230 AND THAT1ACCOUNT! THEY THINK THAT QUESTION BOX IS AMAZING AND IS A GREAT HOST OF CLASH FOR OBJECT SUPREMACY!! |
Community content is available under
CC-BY-SA
unless otherwise noted.