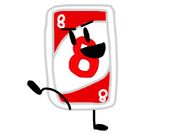 UNO Card is an OC created by ButterBlaziken230.
Appearance
UNO Card is a Card from the game UNO. He is a red 8 card, meaning he can be played when a red or an 8 is laid down. There is a white part over his body containing the number 8. He has a white border, with some red parts also saying 8. He only has legs, and no arms.
Personality
UNO Card may be seen as a fat contestant because of his size, but he is actually a friendly and cunning person. He helps out his friends by devising devious plans that usually work. He gets annoyed when people reject his ideas or do not co-operate with his plans. If you ignore this side of him, he is a really good friend.
Trivia
Community content is available under
CC-BY-SA
unless otherwise noted.