"
You're a very naughty engine!
"
 
The Fat Controller (Mainly referred to as The Fat Controller the Fat)is a male OC created by NeptuneTehPlanet . He is a joke character that may have a chance to join TROC 6.
Personality
The Fat Controller is a very strange character as he has many personalities . He has a strange voice of a technique called voice editing . He mainly uses the phrase "You're a very naughty engine!" which can be annoying to some and also noting that when he says this , none of them are locomotives . The Fat Controller owns a few trains . When he tells a trains job , he would get there before they do which confuses them since he could've done it himself .
Basis
bold = Character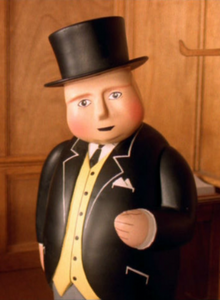 The Fat Controller is based of a children's TV show character with the same name , or otherwise known in the US , Sir Topham Hatt. The Fat Controller usually has the appearance of the model of The Fat Controller . The Fat Controller lacks some details , such as the : red cheeks , two napkins , pocket ect.
The Fat Contoller has made a few appearances in a couple of NeptuneTehPlanet's videos as his TV model version .
Community content is available under
CC-BY-SA
unless otherwise noted.