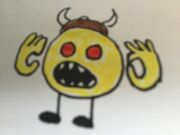 The Emoji God is an OC created by ButterBlaziken230.
Appearance
The Emoji God is a yellow body, made out of fractures of the sun. He has two floating hands that are carved from molten lava, but turned hard. He wears a Viking helmet and has two small feet.
Also, his size is tremendous. He is the size of a regular object, but he can grow as big as the universe. He gained these powers from The Meme Sword.
Powers
The Emoji God has power.
He can poop meteors
He can shoot lasers from his hands

Also from his mouth and eyes

He can eat entire planets by growing in size
He can get a popcorn and a drink for 60 cents instead of 65
He has the power to clone diamonds
Community content is available under
CC-BY-SA
unless otherwise noted.