See BFDI wiki for detailed canon info.
Taco

voiced by:TheSwoobatNinja*

Gender

Female (Male in some roleplays)

Species

Taco

Team

SGs, Bleh (BFB)

Episode eliminated

TBA

Place

TBA

Friends

Enemies

Color

Tan, blue, green, red

Nationality

British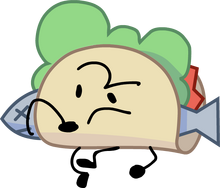 Taco is a former recommended character in BFDI. She was up for joining in episode 17 but did not join. (9 votes) She also didn't join in BFDIA. (159 votes)
She had a chance to join IDFB until it was postponed. She is a contestant in Battle for BFDI and is one of the members of Bleh.
She was stuck in a jawbreaker in Lick Your Way to Freedom until Why Would You Do This on a Swingset when she freed herself.
BFSP
He is also a contestant on Battle For Space Palace. He is currently in the Finale along with Clock.
Fanfictions
Names
Tanya Balog (Opinduver)
Thomas Ben Alverez (NLG343)
Marissa Woods (KittyFan2004)
Tessa Lavina (AfterLifeInTheLimelight)
Amethyst Blake ( ͡° ͜ʖ ͡°)<Don't use this, Nemo and ScribbledEggs.
Tana Carson (Derpyunikitty)
Tammy Zambrano (Ze Tossere)
Birthdates
October 2, 1999 (U4Again)
September 7, 1992 (Ze Tossere)
November 12, 2000 (NLG343)
February 10, 1998 (KittyFan2004)
June 30, 2008 (Pinekones)
September 4, 1987 (Clocklover10)
September 17, 2003 (Minikeona4322)
December 29, 2001 (Afterlifeinthelimelight)
July 15th, 1994 (Depryunikitty)
April 17, 2005 (CaptainKnucklesFTWFlowerFTL)
Where Taco is from
Austin, Texas (KittyFan2004)
London, England (NLG343)
Liverpool, England (Pinekones)
Whitehorse, Canada
Chihuahua, Mexico (Derpyunikitty)
San Antonio, Texas (U4Again)
Vernal, Utah (Ze Tossere)
Trivia
Gallery