Strawberry

Gender

Female

Species

Strawberry

Eliminated

IU: TBA
OC Popularity Vote: TBA

Place

IU: TBA
OC Popularity Vote: TBA

Friends

IU: Candle, Bead, more coming soon
OC Popularity Vote: Everyone (Except Enemies)

Enemies

IU: Grenade, Dart, more coming soon
OC Popularity Vote: Gamey

Color

Pink (Body), Green (Leaves), Yellow (Seeds)

Age

10
Strawberry is a fan character made by
Plantsvszombiesfanatic
.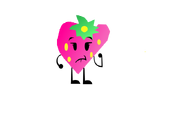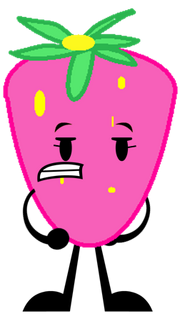 Personality
Strawberry is the typical valleygirl of the show. She's rude and judgemental, and yells at her friends. She is also very smart, especially for a 10 year old, which makes her brag about her high intelligence. Despite being mean most of the time, she is very kind and a good friend when around her BFFs.
Coverage
Inanimate Universe
TBA
OC Popularity Vote
Strawberry competed in the OC Popularity Vote along with Candle. She was safe the first episode, with 8 likes against 5 likes from CRAZYDUDE GUY who was eliminated. But in episode 2, she and Candle were in the bottom 2 tied with 11 likes. Upon hearing that the Host's randomizer chose her over Candle, she is very happy and yells "YES!" at first, but remembers that Candle would have to leave and yelled "NOOOOO!!!". In episode 3, she is safe with 36 likes tied with Joystick, and is 6 likes away from elimination.
During the first episode, she serves as a main antagonist, threatening death many times and being very short tempered. When the people go to court, a whopping 82% of the people at court thought she was the culprit. She voted for Beard, who received the other 18%. She was put as the main suspect alongside him, and Graveyard who was nominated by Wikia. However, Beard was caught as the culprit and she was safe for the first round. She then changed her ways in the 2nd episode.
Trivia
Strawberry was my very first character ever.
Community content is available under
CC-BY-SA
unless otherwise noted.