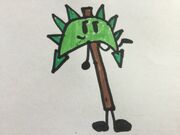 Spikey Emerald Pickaxe is an OC created by ButterBlaziken230.
Appearance
Spikey Emerald Pickaxe is based off of an item that players of Minecraft have longed to be in the game - a Spikey Emerald Pickaxe. It's like any old pickaxe, but it's green. However, this pickaxe has green spikes around the part used for mining. He has arms and legs.
Stats
His mining Efficiency is slightly higher than the diamond pickaxe.
His durability is just below the diamond pickaxe's.
Knowing this makes this tool a glorified golden pickaxe.
Personality
Spikey Emerald Pickaxe, like Medally, is a bragger. However, he brags about stuff in his Minecraft worlds. When you're around him, he'll say stuff like, "Guys! In my Minecraft world I have a stack of diamonds! It's all done in survival!" or something like that. Lots of people dislike him. Even a gullible, naive person like Crystal Towery can see right through him.
Trivia
If angry, he can set himself ablaze.
Community content is available under
CC-BY-SA
unless otherwise noted.