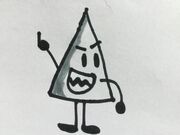 Spike is an OC created by ButterBlaziken230.
Appearance
Spike is a small, white, Sharp spike that is most commonly seen in platformer games. However, he has a face, arms and legs.
Personality
Spike is an evil person who constantly comes up with plots to hurt people. Some of his ideas are quite imaginative, making people think that if we wasn't evil, he would be wise and would use his imagination for something better. Spikey Ruler has tried becoming friends with him since they're both spikes and they're both imaginative, but Spike thinks she's a loser.
Trivia
Community content is available under
CC-BY-SA
unless otherwise noted.