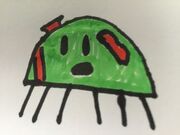 Spider Zombie is an OC created by ButterBlaziken230.
Appearance
Spider Zombie, like 2 other of ButterBlaziken230's OCs, those being Evil Spider and Pill Spider, is a spider. However, this one is a zombie. He has the usual 6 legs, but he has scars over his face, where his muscles show. He even has a part of his body sticking out of the back of his head. His skin is a bright shade of green, and he does not have any arms.
Personality
Spider Zombie doesn't really have a personality. But as a person, he only has one goal - eating people. Since he does it regularly, he can do it quickly.
Powers
Eating People Quickly: Spider Zombie Can digest people very quickly.
Camouflage: Spider Zombie can camouflage himself by hiding in tall grass.
Question Box's Adventure
In Question Box's Adventure, Spider Zombies are a common re-occurring enemy. They are easy to defeat, as they move slow and can be defeated if Question Box jumps on them. Some of them can hide in grass and suddenly appear, starting off at a fast speed and then slowing down, but they still are weak.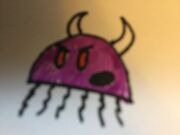 Trivia
He is 4 times bigger than Microspider, 5 times when Spider Zombie is glitched.
Community content is available under
CC-BY-SA
unless otherwise noted.