Salt



Gender

Female

Team

Acromania

Rank

Unknown

Color

White, Gray

Friends

Enemies
Salt
was a contestant who competed in
Inanimate Insanity
. She was a member of Team Chickenleg. She is also a member of Team Acromania.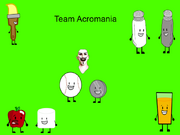 Fan fiction
Human Names
Sally Rubman (doomes.desean, treyelevators)
Susie Altman (NLG343)
Jessica Andrews (KittyFan2004)
Salty "Scotland" Joltson (GameboyNextGeneration)
Shay Pavlovski (Opinduver)
Shana Clifford (Tamagoyaki)
Sandra Goodman (FlorasAreReallyCool228)
Where Salt is from
Oslo, Norway (U4Again)
Orlando, Florida, USA (treyelevators)
Toronto, Canada (KittyFan2004)
Calgary, Alberta, Canada (KittyFan2004)
Horsham, West Sussex, England (Tamagoyaki)
Birthdates
February 28, 1993 (Tamagoyaki)
April 4, 1994 (treyelevators)
October 7, 2000 (FlorasAreReallyCool228)
Trivia
Salt is the second competitor who has a friendship with another competitor before the show began.
She has a crush on OJ.

She is the only contestant to have a crush on someone.
Gallery