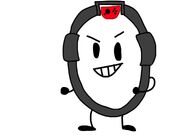 Ring-Con is an OC created by ButterBlaziken230.
Appearance
Ring-Con is a new accessory for the Nintendo Switch, only announced recently, called the Ring-Con. He is a large hoop, with two buttons on the side that you squish. At the top of him, there is a joy-con.
Personality
Ring-Con is a sporty person, and very strong (the Ring-Con improves fitness in real life, so that is why he has that attribute). He can sometimes be a bit bossy and strict, but he only does it because he wants to improve the fitness of his friends. Ring-Con also wants to teach P.E to an elementary school one day, by making them play Ring Fit Adventure (the game that the ring-con accessory was announced for).
Trivia
He was going to be in Evil Blaster's Alliance, but he refused.
If he is stressed, his stress can be relieved by pushing hard on his buttons on the side of him.
Community content is available under
CC-BY-SA
unless otherwise noted.