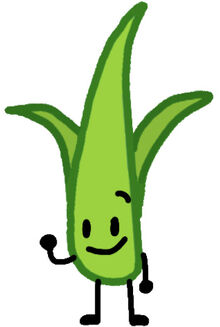 Gender:
Female
First Appearance: The Big Prize Trailer
Latest Appearance: Liars and Swimmers
Behavioral Alignment: Very good
Episode Eliminated: TBA
Team: Yelling Dogs
Voiced by: Noah Porter (5 semitones)
Friends:
Planty (best friend)
Carrot
Shelly
Enemies:
Ice Cream
Bowling Ball (possibly)
Potato (since TBP 2)
Character Description
Planty, labeled The Social Butterfly, is a female contestant on The Big Prize. She is currently competing in the team Yelling Dogs. She is Filmy's best friend, and is very open to everyone around her.
Appearance
Planty is a grass-like plant that is green. She is known as an open leader and helps out with Filmy in the challenges.
Personality
Planty is an open social person. She likes to be around Filmy, because they are best friends. She talks to him when he needs her to talk to. Planty is always nice, and she always goes with the plans that she is involved in.
Coverage
In TBP 1, Planty joins Filmy's alliance and lets Carrot join too. She became the team captain after winning the first challenge. Although, in the second challenge, she tried to hit Bowling Ball with a dodgeball, but he ate it and barfed it out, attacking every teammate except Basket, and puts her UFE.
In TBP 2, she helps Filmy with the challenge, rescues Shelly underwater, and wins for her team by keeping Shelly's corpse after he died.
Trivia:
Planty is based on someone Noah knows. Because of safety, the name and identity won't be shown.
Planty was a basil plant on her debut body.
Planty now is a grass-like plant.
Community content is available under
CC-BY-SA
unless otherwise noted.