Pingu is both the king of the world and a crossover character. From Object all gloopers again and Battle for J City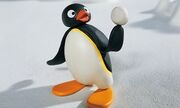 Bio(OAGA)
Nice, cheeky, and playful Pingu James Penguin, lives in South Pole with his family.
Appearance(OAGA)
Black & white penguin, red beak, and yellow stripes on belly.
References
Pingu is also from Battle For J City
Bio(BFJC)
pingu is a nice person that likes helping others.
Appearance (BFJC)
Bloooo
Community content is available under
CC-BY-SA
unless otherwise noted.