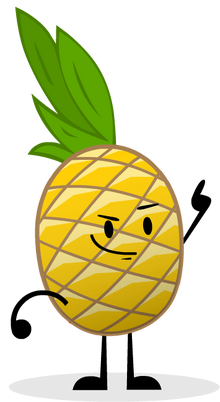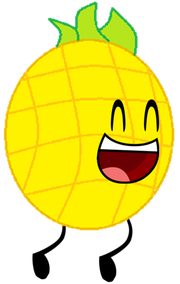 Pineapple is theminecraftwolf9's main OC he is in shows like Inanimate TV, RC's in certain camps and he will soon be hosting his own camp.
About Pineapple
Pineapple is an armless male that is very random and likes to jump about. Normally Pineapple acts crazy but sometimes he can be mysterious. Pineapple is friends with almost every object in the world it is unknown however if they like him back.
Trivia
Pineapple was theminecraftwolf9's first OC.
Pineapple was the first contestant  made for Inanimate TV.
Pineapple is the first of theminecraftwolf9's OC's to have a camp.
Pineapple is the most random contestant in Inanimate TV the second being TLC.
Pineapple is the first of the Inanimate TV cast to join a camp wich is Battle for Fudge Paradise Made By SwagyBFDI64.
Pineapple Had a chance at debuting in Brawl Of The Objects
He is also a member of Spoiled Lemon in inanimate insanity.
Gallery of Pineapples (THE PINEAPPLE EXPRESS)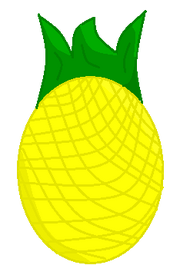 Community content is available under
CC-BY-SA
unless otherwise noted.