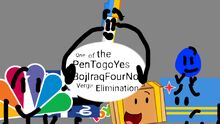 Welcome to One of the PenTogoYesBojIraqFourNo Verga Elimination!
Where all the fun, funny, silly, annoying, sad, creepy, and happy things happen!
(Note: DO NOT DELETE ONE OF THE PENTOGOYESBOJIRAQFOURNO VERGA ELIMINATION OR ELSE I WILL BLOCK YOU!)
Eliminated Contestants
1st: Greenland | Votes: 5 | Reason: 1. It's land is covered in ice, 2. It's name is clickbait
2nd: Oz Film | Votes: 6 | Reason: Scary lookin
Community content is available under
CC-BY-SA
unless otherwise noted.