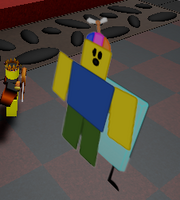 Objects Vs. Noobs is a PVZ clone (or inspired game) made by a few members of the Taco People Productions team, the creators of Object Whatever and Welcome to Goiky (Game). As of right now, there is no official place for this. However, you can view various demos of OVN here.
Objects
Stats are viewable in this sheet (wip)
Sun Coin (ingame equivalent: Sunflower)
Hammer (ingame equivalent: Peashooter)
Ice Cube (ingame equivalent: Wallnut)
Bullet (ingame equivalent: Potato Mine)
Spike (ingame equivalent: Spikes)
Cherries (ingame equivalent: Cherry bomb)
Ping Pong Paddle (ingame equivalent: N/A)
to be continued
Noobs
Regular
Conehead
Bucket
Brick (explosion is required to remove brick protection)
Stone (explosion is required to remove stone protection)
Lawn Mower
Propeller
Giant
Developers
Eviled123123123 (discord server creator)
1MrEgg1 (creator)
SherrifMaoMao
Community content is available under
CC-BY-SA
unless otherwise noted.