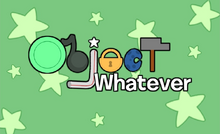 Object Whatever is an object show RP game on ROBLOX created by Taco People Productions. It currently has over 1M visits.
https://www.roblox.com/games/930242829/Object-Whatever-3-0-0-1#!
Characters
Object Whatever includes a wide variety of characters to choose from. Here is a list of object show in which characters can be chosen from.
Battle For Dream Island
Battle For Dream Island Again
Battle For BFDI
Inanimate Insanity
Object Overload
TWOW
Brawl Of the Objects
Object Show 87
Object Mayhem
Object Havoc
Object Terror
Object Lockdown
Challenge to Win
Object Invasion
BFTC/BFTS
The Struggle For the World
Object Universe
Battle for The Respect of Roboty
TROC
Open Source Objects
EEE
Modern Objects
Through The Woods
Yet Another Gameshow
Object Filler
Object Filler Again
Object Mayhem II
MOSS
Nonexistent Living
Coming Soon
CFMOT/ИНМТ
Incredible Items
Object Explosion
Entity Frenzy
Brawl For Object Palace
Race For The Keys
AIB
Azoic Assault
Cool Insanity
Ultimate Insanity
Objects Meets World
Eoris Camp
Object Towel Again
Battle For The Ultimate Winner (Least Objects have 10)
Battle For The Victory (The most Objects have 80)
BFBBFBG2
Battle For Battle Balloon
Community
The community is chilled out and relaxed for the most part. The rulebreakers that used to show up constantly have died off ever since the 3.0 update.
Stories On The Game
Add your funny stories that have happened on the game here! They can be sad or funny.
ButterBlaziken230's Stories
I was once forced into an rp that was basically Watchdogs but with BFB characters. When I said I didn't want to be in it or that I didn't know anything about Watchdogs, he would hate on me. He called me racist at one point (for doing what?). I ended up giving in and doing his rp. It was really boring and I wish I could've went into an actual show.
I was eliminated from a show in this game for not liking a 2-month old meme. That meme was Creeper Aw Man. Literally the entire cast hated on me and told me to shut up. That show was run by a terrible host who made challenges that could easily be cheesed (Don't fart challenge - don't say anything in chat). A show always goes well when I'm hosting, however.
I was once in a murder mystery story with my friend. It was run by an admin who happened to be online. It took place in OJ's hotel. I can't remember much, but I think there was an evil Gaty spirit who killed me.
On 20th October 2019, me and User:DarkRookYT sung the DK Rap from Donkey Kong 64 while roleplaying as Coconut Gun from TROC. It was literally the funniest thing ever. If I had stayed on the server for longer, we could've started an all-out raid, as several people switched to Coconut Gun because of it.
Stories from MushroomWithSmart
One day a Despacito Spider outbreak occured, various players participated including me, playing as Ballony, it was actually a Raid, but ended up being a Virus Event.
Stories from ExplosionBoom17
I got into an argument with a person over gaty's gender (which is FEMALE!).
On January 30th,i got banned on the OW discord because my little brother had made an account.Since discord bans are ip based,my account got banned as well.The account has been deleted and my account has been back on the OW since March 9th
Stories from Scribblou
I've been in multiple arguments about X's gender. M u l t i p l e.
In a murder mystery event a staff was doing in purgatory mansion, I was in like the final 6 or 5 people in!
I mainly rp as Seven, and the funny part is that it was before the 600k special, where (spoilers if u havent watched it!!) he came back, and I'm pretty sure I cried lol.
Stories from blockgamemeta
I am a former administrator of OW, and have joined OW ever since 1.1.
I usually just rant about OW on a normal basis without actually telling people to do something about it, I stopped doing this because its annoying to everybody, but I did fight somebody while doing this stuff. Great times.
My abusive past starts around 2.3 - 2.4, and ends before 4.0 or so, I usually didn't really actually administrate the game. I usually hosted events about random stuff, and usually give everybody gears. I also did rope everybody into a motorcycle or a car, depending on what version i abused in. These were 'tuff times for OW, honestly.
Stories from Silent_Tranquil
One time, I was in a season (woah, who could've guessed, someone that joined ow in november/december 2018 was in a season), and I went to go get something, and the final thing started without me knowing, and I still ended up getting second.
When the TV in the hotel was becoming a concept, I recommended the Revenge channel. (i highly regret it)
During another event (wasn't a season), I was playing as Rainbow Pin. I was the only person who survived.
what do i put here oh god oh no there's a burger running at me at full speed it has hairy and smelly feet oh god oh my god what the hell ssomebody ahelep
Update logs
1.x
1.0: Initial release.
1.1: II2 Mainland added to the game.
1.2: Purgatory Mansion, BOTO, OO, EXIT, and OS87 added to the game.
1.3: OM, OH, and OT added to the game. Yoyle City also revamped to be a lot nicer.
1.4: BOTO and OS87 Mainland. EXIT also remade to look more like the one shown in BFB 10.
1.5: OL Added. OH and OM mainland also added.
2.x
2.0: Revamped several mainlands and added Object Madness and Object Mayhem.
2.1: Day-night cycle and badges
2.2: CTW added. OLD mainland and Gelatin's Stakehouse added. Hotel OJ revamped.
2.3: BFDI Mainland, User submissions, MeCloud, Elimination areas, Moon and Mars
2.4: Various patches
3.x
3.0: BTFC, OI, OU, and TSFTW added. 5 new mainlands and BFDI Character backsides also added. Lobby revamped.
3.1: BFTROR added along with 2 new mainlands.
3.2: New UI, TROC, 2 new mainlands, several map revamps added. Tools are also removed.
3.3: OSO morphs, II map revamp
3.4: Various patches
3.5: Various patches (includes readding missing morphs)
4.x
4.0: New name gui, OSO Mainland, Dark Mode, plus pack, the II basement, GPS, and 6 new shows added.
4.1: Buried Forest, Deciduously Insulated and stricter admin rules
4.2: Various patches (final major update as focus is going towards Welcome to Goiky)
Official Admin List (as of August 2020)
Developers
Pementa
m1nccino
razpup
NovaShrugs
MrMarkerMaker
SheriffMaoMaoMao
MemeSauce89
rustMotherboard
wdiepie12
Staff
Jettaman123
M0k0u
realcodyjnutt
tomkin77
magniflcent
thewondertwins
snowybushy
HenlonoExists
Tareock
fightcary
ReanimatedUtmost
Tradgore
Meritory
noahisabottomdummy
cookiethere
TonyTensive
SacriStuff
Trial Staff
Skaboof
Verldlan
TheN00binty2
MoYoshi2006
kazooby
mxctical
sycne
Testers
Axirous
CherryspeakPlus
Jseth
AlvinAlser
FuntimeIceCubeBFDI
YoshisStudios
Thescrubbyman
Mechanical_Mistake
SquirmyMcGee
BuzzyBeetle
DJ_Caldwell
Seamusmario13525
lucascoleman2007
Popee_matsu
AnimaniacInBloom
BalmoTom
caveman_lol
TotallyEthearlFlower
Pix_ly2
scribblou
Subcursor
Trivia
Object Whatever was created in 2017.
Community content is available under
CC-BY-SA
unless otherwise noted.