About the Object Shows Community
Welcome to the Object Shows Community! There are thousands of fan fictions on the wiki! You can get started by going to the top right section of your screen, and click on the paper icon. There are some examples listed on the left sorted in the alphabetical order. To link your fan fiction as an example, you have to request it by going to here, state your fan fiction's name, and your username, and an admin/bureaucrat will complete your request as soon as possible. Be sure your fanfictions/camps are be original, there is NO plagiarzing. Read the rules before you get started.
Note: You have to log in to contribute. Users that are not logged in cannot contribute.
WARNING: Do not edit other people's content without permission. You are only allowed to edit your content.
Creating more Articles
If you want to create an article that is Object Show related, use the box below to create it:
<createbox>width=30</createbox>

Character Pages
Help us finish the incomplete stub pages!
Blocky, Bubble, Coiny, David, Eraser, Firey, Flower, Golf Ball, Ice Cube, Leafy, Match, Needle, Pen, Pin, Pencil, Rocky, Snowball, Spongy, Teardrop, Tennis Ball, Woody
Alarm Clock, Beachball, Bowling Ball, Brownie, Bugspray, Camera, Candle, Carrot, Charlie, Dodecahedron, Eggy, Febreze, Lamp, Lemonade, Napkin, Radio, Rubber, Sunscreen, Thread
OJ, Taco, Pickle, Apple, Bow, Marshmallow, Bomb, Paintbrush, Salt, Lightbulb, Pepper, Balloon, Nickel, Knife, Baseball, Paper
Baguette, Big Orange Chicken, Boat, Boombox, Chocolatey, Hot Dog, Party Hat, Pear, Pinecone, Pizza, Popsicley, Scissors, Shelly, Shieldy, Slurpy
Bar of Soap, Coiny, Dorito, Flower, Globe (OO), Grapejuice, Lightbulb, Paper, Smiley, Soap, Tack, Taco, Tea, Tree
Poll
Extra
beforebattlefordreamisland.wikia.com
Top Contributors
These contributors have made the most edits and the ranks in the brackets are the ranks, they're achieved after receiving badges. Accurate as of 21/12/2019
Nemolee.exe - 29,900+ edits (1st place)
MassachusettsFan - 16,549 edits (2nd place) (inactive)
Chikako the Meowstic - 14,354+ edits (3rd place)
Bokurei the Phantump - 14,327+ edits (4th place)
Phuocphuc46 - 13,065+ edits (5th place)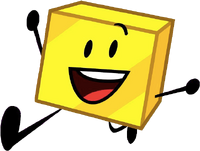 Community content is available under
CC-BY-SA
unless otherwise noted.