WARNING
When all, if not an excessive amount of images are removed in this page because of a mistake or vandalism, please do not revert it with normal undo technique. Wait until an administrator, rollback, a content moderator or a mod is active and they'll rollback it to avoid massive traffic, or just simply report it to them and we will take actions asap. Thank you, and now enjoy.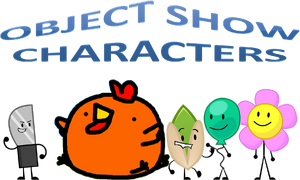 This article is about all the Object Show Characters.
Games
AndyThePrince703 on Scratch has made a game using these idles.
Check it out! http://scratch.mit.edu/projects/17416810,
He also made a sequel. https://scratch.mit.edu/projects/74030818
111robloxdude is also making an object show story choosing path game
SammyRammy is also creating a object show game show that will (hopefully) be playable in 2021!!!!!!!!!
Browse
To Go to The Galleries, click on each part below
Don't forget about our sub-category, Character Collections Ultimate!
Show our Joke Object Show Characters
Community content is available under
CC-BY-SA
unless otherwise noted.