Object Oblivion is a written episodic object show by JDancer2017. It's first episode, 'Hello... Are You My Friends?', was released on January 20th, 2019. It can read here.
I will still post episodes here... but any update from other Object Oblivion content has been transferred to the official wiki: Click me to see wiki
The show is basically 12 objects fighting on an island for $10 million dollars, with the last one standing getting the prize.
Contestants
Host
The host of the show is Blue Spirit, a floating blue orb. It is unknown where he comes from.
Others
Everyone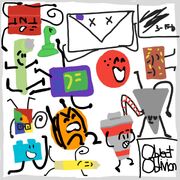 ---
Progress
Episodes
Contestants
Criticism
Despite being a family friendly story, many people criticize the show for being in Furaffinity and consider it Not Safe For Work.
Jdancer2017's commentary on the action: "I know Furaffinity isn't the most kid friendly site I know of, but if you judge something kid friendly just because it is on a certain unkid friendly site; it doesn't mean you can complain that the story is not kid friendly."
Vote for prizes
Now you can vote for prizes as of Shooterz. It can be found here
Trivia
According to JDancer2017, this is from the writer of 'Cycle of Luv' a furry webcomic
Currently: Envelope, Mp3, Toothbrush, Fruitcake and Bowling Ball are the only contestants that received Zero votes
This is one of the few Object Shows to feature animals competing
This show is hosted on the Object Show Community Wiki and Furaffinity

This marks it the first time an object show is hosted on a furry site

This show features a character from the LGBTQ community (Toothbrush)
More Object Oblivion
Community content is available under
CC-BY-SA
unless otherwise noted.