I AM CURRENTLY PUTTING THIS GAME THROUGH A REDESIGN. BECAUSE OF THIS, THERE MAY BE LITTLE INFO.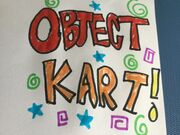 Object Kart is a game created by ButterBlaziken230.
Gameplay
This game is your average cartoony racer. In this game, you can play as many of ButterBlaziken230's OCs and race in race courses. You can use items to help you get further in the races, too. Overall, the game is very similar to Mario Kart, just with ButterBlaziken230's OCs and other things.
Characters
Tracks
Easy Cup - The Easy Cup is the first cup in the game, and, as its name implies, it is easy. There are 5 different tracks in it.
Medium Cup - The Medium Cup is the second cup in the game, and is slightly more difficult than Easy Cup. It contains 5 tracks.
Tricky Cup - The Tricky Cup is the third cup in the game and is the most difficult when compared to the others before it. The turns are much more sharp in these 5 tracks and the roads are shorter.
Community content is available under
CC-BY-SA
unless otherwise noted.