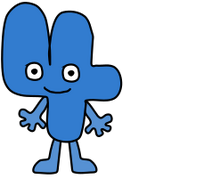 North Goiky is a field with light green grass, Yoyleland as a capital, and much more unknown places. BFB and IDFB take place in North Goiky.
IDFB
IDFB takes place in the capital, Yoyleland. It is confirmed Season 3 takes place here, along with the shorts. It is possible on BFDIA 6 they went to North Goiky.
BFB
BFB was assumed in North Goiky, along with the desert, as revealed in BFB's first episode, Getting Teardrop to Talk. There is much more to be revealed in North Goiky, as the lavatories were there, along with elimination area, and possibly a Jawbreaker Mueseum.
Roleplay
ROADS:
Bleh: 428 Fork Ave.
Death PACT: 214 Tremble Rd.
ABNTT: 752 Goiky Rd.
Team Ice Cube!: 538 Elizabeth Ct.
Free Food: 43 Foobie Blvd.
The Losers!: 620 Loser Way
iance: 150 Roleplay Bvld.
BEEP: 492 Bee Bee Rd.
Community content is available under
CC-BY-SA
unless otherwise noted.