Narwhal Ball is created as Beth's avatar.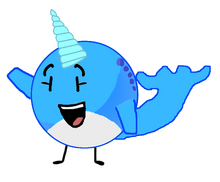 Appearance
She's a Arctic blue ball with a white belly and and dark blue spots on her back, she has a horn like tusk on top of her, a whale tail on her behind and flippers for arms
Personality
She has a half nice half mean personality, but when something goes wrong, she will pretend to be out of the picture. Narwhal Ball is also seem to be kind of clever at times. But sometimes, she could be a little half dwitted.
Origin
She's a object born in small town in Finland, but she was infected with a syndrome which causes her to have narwhal features
Community content is available under
CC-BY-SA
unless otherwise noted.