In this pages you can see some characters that i made by myself!! Enjoy! Battle For The Million is my season i will poste later!
Bubble Gum
Is a female contestant that want to win Battle For The Million (My Season). Personality: She is a good friend but! If you disturb her when is concentarte she is so EVIL! 
Friends: All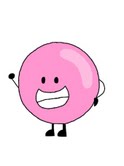 Enemies: Blocky and Rose
She likes to play the guitar, sing, and fight!
She dislike the meat and the flowers (roses)
She loves to eat pizza and ice cream
Bubble Gum Audition: Hi!! I Am Bubble Gum! And this is my audition i only want to win this season and make new friends!! I AM A SUPER FAN OF BFDI AND BFDIA!! I hate you Blocky! So please chose me!! (Mom. Hey Bubble Gumy time for sleep with you teddy bear!!) AGH! DONT DISTURB ME MOM I AM DOING AN AUDITION!!! SO CHOSE ME IF YOU DONT CHOSE ME YOU WILL DIE!!! 
Rose
Is a male contestant that want to win Battle For The Million. 
Personality: A good guy but he talks a lot!
Friends: All
Enemies: Bubble Gum
He likes to talk and talk and talk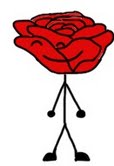 He dislike the fire 
He loves to talk and talk
Rose Audition: Hi! I Am Rose! I am a boy not a girl, my father invent the water and the houses, my friends loves to sing, i didnt like to eat! My family and friends tell me that i speak a lot this isnt TRUE! (24 hours later) So i like the color red and... (Tha camera have no more charge)
Community content is available under
CC-BY-SA
unless otherwise noted.