DESPITE THE FACT I OWN LATVIA, HARRISTSANG720 OWNS IT TOO. WE SHARE THE OC.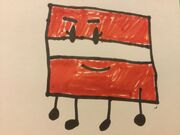 Latvia is an OC created by HarrisTsang720. She first appeared in The Anything RP, which can be found in the Roleplay forum.
Appearance
Latvia's Appearance is the Latvia flag - red, with a white line in it. She has arms and legs.
The Anything RP I
She is first seen in the hospital, being recovered by two doctors. When all the other patients were forced to leave, she was allowed to stay since she was unconscious and needed help. Doctor 1 and Doctor 2 recover her. She is about to leave, but is stopped by Doctor 3, Doctor 4 and Doctor 5 who argue with Doctor 1 and 2.
The ButterBlaziken Show
In The ButterBlaziken Show!, she has only appeared in one episode, this one being Attacked, where she is annoyed by Blue Tetramino and Spike, members of Evil Blaster's Alliance. However, Smash Bros Logo kicks them to save her.
Community content is available under
CC-BY-SA
unless otherwise noted.