IM DOING THIS FOR ENTERTAINMENT PURPOSES AND TOTALLY NOT FOR MONEY EVEN THOUGH I CANT GET MONEY ON A WIKIPEDIA.
Your average, typical Object Camp.
Theres ABSOLUTELY NO PRIZE.
cause, its madeup.
Characters
Contestant Characters being chosen.
Contestant 1 : Gerald | Nobody.
Contestant 2 : Pin | Nobody
Host Characters:
Text
I.D.T.F.E.P.A.T.N.F.M.E.T.I.C.G.M.O.A.W : 0A
Text: I hope you contestants are all READY!
Contestants were not picked, so there was total silence.
Text: Oh. I forgot. The Contestants were not PICKED!
Text : Fine, then how about I create a contestant?
Text Grabs a pencil and draws.
Text : Hoooows this?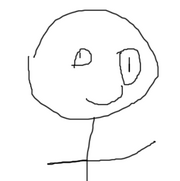 Drawing : help me.
Text : Great! I'll name you Gerald!
Gerald slithers across the grass, attempting to walk.
Text : It's learning, wow! What a magical experience!
Text : Lets introduce an old character!
Pin suddenly appears.
Pin : WHY AM I HERE!?!?!?
Text : Your a contestant for I.D.T.F.E.P.A.T.N.F.M.E.T.I.C.G.M.O.A.W
Pin : oh ok.
Community content is available under
CC-BY-SA
unless otherwise noted.