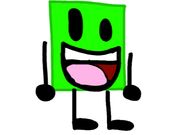 Green Block is an OC created by ButterBlaziken230, and the best one.
Appearance
So basically Green Block's design is surprisingly complex. I put a lot of work into designing his body, and made sure that every little detail was on point. He's a green square. Marvellous, right? I too can't believe that such an amazingly designed object exists out there in the sea of useless characters like Unknowny, Fire Exity, Question Box, Clock Hands and many others. Bleh! They are disgusting!
Personality
Sure, you thought his appearance was mind-blowing. I can understand that; such an excellent body is a lot to take in. But just when you thought it was safe to read this page and not get blown away by sheer impressment, wait until you hear his personality! Drumroll..... he's nice to everyone. OH MY GOSH! I can sympathise with this character so much! I can really feel like I'm in his shoes and can understand everything behind the decisions he makes! Wow!
In all seriousness, he gets annoyed by Evil Blaster's Alliance for looking horrendous and having a bland personality. He doesn't even mind and just wants to be nice to everyone.
Trivia
He always walks in a low-quality Object Show walk cycle.
Community content is available under
CC-BY-SA
unless otherwise noted.