See BFDI wiki for detailed canon info.
Firey is the main protagonist and the winner of BFDI.
In Object RPG, Firey is the beginning character. He is the only character to not be turned evil by the evil mist. He has 10HP at starting health but that changes as he levels up.
Moveset
Level 1 - Fire Punch. He punches his opponent with a fiery fist. It does about 2 - 4 damage and has a 10% burn chance.
Level 3 - Flame Inflict. He shoots a small flame at his opponent. It does 5 - 6 damage but has a 30% burn chance.
Level 5 - Heat Up. He makes himself stronger, decreasing the damage of the next attack by 15%.
Fan-Fiction
Human Names
Flair Bernie (TheObjectThing15)== Gallery ==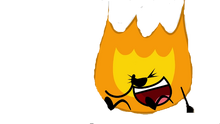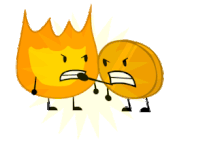 Names in different languages (copy)
파이리 - Korean
ファイリー - Japanese
火 - Chinese
Vurige - Dutch and Afrikaans
Lửa - Vietnamese
Fuego - Spanish (Both Latin American and Castillian Spanish) and Aragonese
Fogo - Portuguese (Both Brazillian and Lusitanian Portuguese) and Galician
Ogień - Polish
Tüzes - Hungarian
Feu - French
Tomm - Breton
Tulinen - Finnish
Eldur - Faroese and Icelandic
Fieu - Romansh
Eldig - Swedish
Fyrig - Danish and Norwegian
Fajro - Esperanto
Ognjeni - Bosnian and Slovenian
Vatra - Croatian
Alev (or Ateş) - Turkish
Yanğın - Azerbaijan
فيري - Arabic
אש - Hebrew
Агністэй - Belarusian
Файри / Огненнее - Russian
Вогней - Ukranian
Foculet - Romanian
Feuer / Firey - German (Which, surprisingly, he can speak)
φωτιά - Greek
ไฟ - Thai
Fuoco - Italian
Dóiteáin - Irish
Ватрени - Serbian
See also
Community content is available under
CC-BY-SA
unless otherwise noted.