"
You know, a lot of people today are saying that this generation of kids are in fact are[sic] the stupidest.
Now that's debatable. Now I believe there have always been stupid people.
But the internet provides greater opportunity for stupidity to be expressed and paraded. In this day and age with the internet, ignorance is a choice!

AND THEY'RE STILL CHOOSING IGNORANCE.

"
~ Frank shares his wisdom on the types of people on the internet.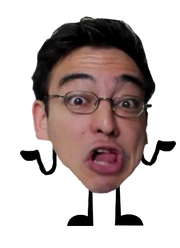 Dr. Filthy Francis, Ph.D., simply known as Filthy Frank, is an OC created by User:Ze Tossere
Personality
Filthy Frank is the embodiment of everything a person should not be. He is anti-PC, anti-social, and anti-youth. He behaves and reacts excessively to everything expressly to highlight the ridiculousness of racism, misogyny, legalism, injustice, ignorance and other social blights.
Community content is available under
CC-BY-SA
unless otherwise noted.