Drumstick

Drumstick's new pose

Gender

Female

Species

Drum stick

Occupation

Alliance member (Pencil's in RFVP and RFM) Co-host (RFVP and RFM)

Friends

All girls (Except Flower and Dora(RFVP), Toothpaste (love interest, Firey, Dusty, Woody, Baguette, Ghosty

Enemies

Birthday!

August 7
 Drumstick is a female co-host of Running for Vice President (parts 2 to present) and, once again, a co-host of Running for Mayor (RFVP S2). She is in an alliance with Pencil, Match, Bubble and Ruby.
Personality
Drumstick is very kind. She cares for others even Leafy. She can be moronic and curious at times. When she's with Baguette, she gets flirty which irritates him. She gets distracted easily making Toothpaste annoyed at times. She is most likely to show friendship with Match and Crayon. She's mean at times like when she and Crayon/Match gossip about other people. She often says "like" or "OMG". And she's also a make up artist
Friendship
Bubble
They can interact each other. Drumstick always show care to her.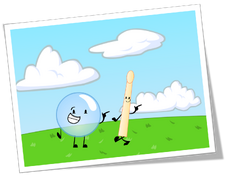 Status: Besties
Pencil
They barely interacted each other but are in an alliance.
Status: Besties
Toothpaste
They always interact each other.
Status: In a relationship (BF & GF)
Baguette
Baguette is Drumstick's love interest. He has been mentioned in Drumstick and Crayon's conversation.
Status: Friends
Flower
Even though they never interacted before, they are still enemies.
Status: Enemies
Crayon
They always have their conversation. Spreading rumors to other people (off-screen according to the author). Drumstick is better friends with Crayon than her own alliance.
Status: Besties
Bow
Though they had never interacted each other (in future chapters they will), it has been seen in Goikybook that Drumstick liked Bow's status about chairs.
Status: Friends
Gallery
Community content is available under
CC-BY-SA
unless otherwise noted.