Crushed Jelly is a female contestant on Object Show. She is a very adorable contestant who likes everybody. She likes to dress up which makes her look cute. She has a crush on PlayStation. But sometimes she can annoy PlayStation Even though she's trying her best to make him happy. She has a speech impendiment and a high-pitch voice. She has a very cute and happy face. Everyone likes her nobody hates her she is friends to everyone in the whole entire world. She is always happy and rarely sad.
Popularity
She and this page is recently gaining huge amounts of popularity due to a user named BFDI336ItsFunneh909 mentioning her on a wiki post and drama on the wiki.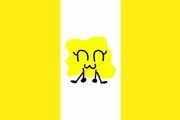 Since then the character got hate accounts like Asshike12 and CrushedJellySuperHater it caused a huge drama on the wiki it even involved the admins. When the drama happened the page was trending and the user kept making new accounts. Then the user asshike12 and his other accounts got blocked and the popularity of the character and page started to fade away. Until…..
Asshike12 decided to make another account (we're not sure) named CockBlocks19292 and he started editing the page making lies like Crushed Jelly got raped by PlayStation her boyfriend. The popularity of the character exploded again and users like Allowed1 started making hate arts of her getting beaten, killed and tortured. The hate arts also had a similar shanemulrooney character named Peanut Butter.
Then somebody decided to make an account of Crushed Jelly on this wiki and started combating the hate arts.
Then the drama eventually got bigger when a popular YouTuber named Maddie manges who is famous for the eyes in the dark videos covered the drama on the wiki.
The character started getting bigger and a YouTube account of her popped up and it got over 10 subscribers.
Then Allowed1 and the Crushed Jelly hatebase started dislike bombing her videos.
The Crushed Jelly Youtube channel made a video talking about bullying on this wiki and it got a decent amount of views.
Another YouTube account called Peanutbutterthecutie popped up it has no videos and 1 subscriber.
The creator of Crushed Jelly decided to release new things about the character.
Like a flag of the Crushedjellyian colonial empire and new drawings of the character.
Gallery