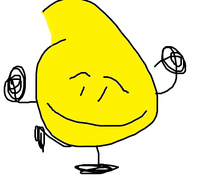 Crazy Face is Yellow Face's ugly twin. He is made in MS Paint in a stupid way.
He speaks both fluent spanish and gibberish. Her voice is weird.
Catchprases
Here is an list of things she can talk.
FIK FIK FIK FIK (Yayayaya!)
Duhhhhgm mmmtv ppo fjfj (This article STINKS)
Tijimmm pdfppp (No fanon)
NooofdmfloDofmkfDkmffjgS GGFGG (Nickelodeon is CREP)
Yeeehay poo noa gkuu ssss (Wacky Packages is gross)
PUYA PUYA (Poyo poyo!)
Me gustaaaaaaa (I like it!)
Nun nu nuuuu (NO NO NOOO)
Teen titans GOO GOO GAA GAA (I hate Teen Titans GO!, do you?)
Di di di di di (Waddle Dee)
POOOOOOOOOOOOOOOOOOOOPPPFfkjfkdl (I WANT TO SIT ON THE POTTY!)
Dddddotjs (Diddly diddly doo...)
SATANAS (Satan)
bananan (Banana)
Mimndhnrecaj (For real life?)
Gallery
Community content is available under
CC-BY-SA
unless otherwise noted.