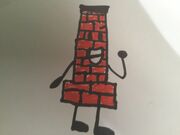 Chimney is an OC created by ButterBlaziken230.
Appearance
Chimney's body is a chimney, a part of a house near the roof to ensure gases move smoothly, made from scarlet bricks. There is a thicker part at the bottom, but it is thin in the middle. At the thick part is his legs. In the middle are his arms, and his face is in a regular place.
Personality
Chimney is best friends with Fireball. He always tags along in Fireball's adrenaline shenanigans, and joins in on the experience. He is pretty excitable too, but he's slightly more relaxed. Chimney has an interest in rap, and has made some. Fireball likes them, but he thinks that a lot of them sound the same. Overall, Chimney is a good friend to have around.
Trivia
Fireball is jealous of the fact that Chimney has legs.

Coincidentally, Chimney is jealous of Fireball's ability to float.
Community content is available under
CC-BY-SA
unless otherwise noted.