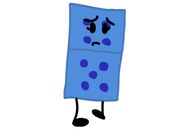 Blue Domino is an OC created by ButterBlaziken230.
Appearance
Blue Domino, just like Red Domino, Orange Domino, Yellow Domino and the countless other OCs in that series, is a Domino. All of these dominoes are based off of a colour, with Blue Domino, as her name implies, being blue. She only has legs, and doesn't have any arms.
Personality
Blue Domino is a shy, clumsy girl who doesn't have many friends. When she's not avoiding any sign of danger, she's a thoughtful and respectable person who could actually have quite a few friends. Her biggest enemy is Capey, since she won't leave her alone. Blue Domino is quite smart, too.
Trivia
She is the fifth Domino in the Domino series.
Community content is available under
CC-BY-SA
unless otherwise noted.