Battle for Your Face is a fanfiction made by lizard7877(Sandi Wescott)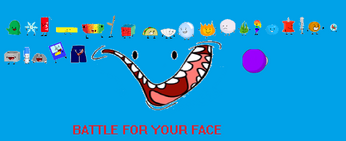 Episode 1: Happy Happy Joy SHUT UP Part 1
Needle: Don't Call me Needy!
Firey: SHEESH! OK!
Coiny: Ha Ha! Now Everyone is slapping you!
(Coiny Starts Slapping firey Wildly)
Firey: OW!
Puppet:So...Ummmmmmmmmmmmmmmmmmmmmmmmmmmmmmmmmmmmmmmmmmmmm
Gummy: SHUT UP! ITS GETTING ANNOYING!
Loom Braclet: Gummy your Such a Jerk
Gummy: Your The JERK!
Puppet: MMMMMMMMMMMMMMMMMMMMMM
(Rocky Barfs on puppet)
Puppet: MMMMMMMMMMMMMMMMMMMMMMM-
Snowflake: SNOWBALL WERE ARE YOU MY LIT
TLE DARLING?!
Snowball: HELP ME PEN! PLEASE! SHE WANTS TO MAKE OUT WITH ME!
Pen: Fine. I'll Try to
Wheaty: YEEHAW!
Bouncy ball: ARGHH YOU ARE SO ANNOYING!
Marble: You Said it Bro
Claw Machine: TEDDY BEARS!
Taco: SOURCREAM
Bubble: YOYLECAKE!
Butter: I SEE DEAD PEOPLE!
Pin: ARGGH I COULD DO ANYTHING TO GET OUT OF HERE!
Round Purple Speaker: Well your in luck.
Pin: How so?
Round Purple Speaker: I Am Making a New Show!
Pin: OH! What are we battling for now?
Round purple Speaker: Your Face!
Pin: Seems Legit
Anyways you First challenge is eating barf. The Two who eat all of the vomit first are team captians. And also Four contestants will be teamless and eliminated!
Bubble: OH NOIO!
(Meanwhile)
round Purple Speaker: Rocky and Taco won. so they pick the Teams!
(Rocky barfs on snowball)
Snowball: OH GREAT!
(Taco spits out Lemon at Marble)
Episode 1 PART 2
Cotinuing with the Teams.
(Rocky Vomits On Pen)
Snowball: YaY!
Marble: I Pick Puppet!
Puppet: YOY!
(Rocky Barfs on Trousers)
Snowball and Pen: EWWW!
(Taco spits Lemon at Firey, which burns inside of him.)
Firey: EKACELYOY!
Pen: I Choose Rubix Cube Cause hes cool!
firey: I Choose Bouncy Ball!
(Rocky Throws up on Touster)
Bouncy ball: I Choose Loom Braclet
Rubix cube: I Choose Coiny
Firey: YAY THE JERK IS NOT ON MY TEAM! And i Also Choose Seashell. Rubix Cube: I choose umm OJ OJ: Yes Round Purple Speaker: Snowflake, TNT, Bubble, Pin, Needle, Wheaty, Butter, Grassy, Gummy, And Claw Machine. You are the Final 10, Only 6 of you will be on a team while 4 are eliminated and teamless.
Puppet And Firey: We Choose Claw Machine!!
Pen: GRASSY IS COOL! HE NEEDS TO BE ON ARE TEAM!
SeaShell: Bubble.
Grassy: We Choose TNT
Bubble: I CHOUSE PIEN!
Purple Round Speaker: Butter, Wheaty, Snowflake, Wandy and Gummy. You Are Eliminated!
Gummy: OH MY PIN FACTORY NO!
Snowflake: GRRRR! I AM COMIng back for you my ange-... Wandy: show off Snowball: WHAT HAPPENED? Purple Round Speaker: Thay got sent to prison planet.
Section heading
Write the second section of your page here.
Community content is available under
CC-BY-SA
unless otherwise noted.