ONLY PARTYTIME808 CAN EDIT!!!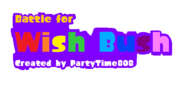 Battle for Wish Bush is a BFDI camp created by PartyTime808. The show takes place inside a changable pocket dimension accessible through Wish Bush, a legendary bush. 40 contestants from the TLC compete for this bush! The show is hosted by the Announcer. It also has a wiki, which can be found here. Here's the current episode.
Contestants (by alphabetical order)
You can take contestants without a user for yourself.
8-Ball (Enzosmile)
Balloony (Bustoboy20)
Barf Bag (TheTwistedMangle)
Basketball (BrownFamily1108)
Bell (AlexAnimations0421)
Black Hole (A good sir)
Blocky (OCremaker2000)
Bottle (Spongeedd)
Bracelety (Derpyunikitty)
Cake (Cutiesunflower)
Clock (Bfdi is the best)
Cloudy (Phuocphuc46)
David (Randomfrog)
Donut (FireyTheFlameOfDreamIsland)
Eggy (ChocolateBliss)
Eraser (TheRobloxianGuy67)
Fanny (TickleTime101)
Firey Jr. (FireyMemes)
Gaty (FoodCrumblesOfficial)
Grassy (AwesomeAquamarine)
Lightning (Cloudy176)
Lollipop (Danformiga)
Marker (TheSawThatSaws)
Match (TheBlueFire)
Naily (U4Again)
Nonexisty (BM44)
Pen (NLG343)
Pie (IWuvChocolate)
Pillow (Disco-shroom)
Puffball (Smallcute)
Remote (ObjectReater)
Robot Flower (InanimateFanGirl)
Roboty (PinFan3)
Saw (MrPokemonMeme)
Snowball (MCCakeDerpTV)
Taco (PikminComet)
Teardrop (TennisBallFan)
Tree (Fan of Grassy)
TV (REDZONE45)
How to join
You can join by commenting and picking a character. You may also make a Recommended Character. The first RC Hurt and Heal here.
Community content is available under
CC-BY-SA
unless otherwise noted.