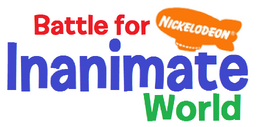 Batlle for Inanimate World (BFIW) is an object show created by MLGBoris2011 in June 15, 2019 in 18:37 UTC. It was made on PowerPoint. It aired on Nickelodeon.
For unknown reasons, it aired on Nick Jr. several times, despite the channel not allowing any shows rated TV-Y7, TV-G, TV-Y7 FV, TV-PG, TV-14, or TV-MA. The show's rated TV-Y7, and some episodes are rated TV-G.
Contestants
Object Shows Fanonpedia (host)
Cookie
Computer
iPhoney
ABC Kids
Saltine Cracker
Caramel
666 (depicted as a hero, and a Sheep World hater)
Boxey
Ice Cream Cone
Melty
Chip
Trivia
It makes kids too hungry.
Community content is available under
CC-BY-SA
unless otherwise noted.