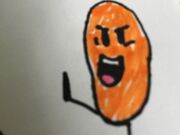 Baked Bean is an OC created by ButterBlaziken230.
Appearance
Baked Bean's body is a small Baked Bean (about the size of Pea, with a face and legs. However, Baked Bean does not have any arms, making him armless.
Personality
Bean likes to be rude to everyone; he's rather sadistic. He likes to kick people in the leg (that's as far as he can reach, due to his size). Most people just groan when they look down and see his face. He's nothing but a nuisance, and he think's he's cool for hurting people.
ButterBlaziken230's Hurt And Heal
In ButterBlaziken230's Hurt And Heal, Baked Bean was the first killed. He was killed by Phuocphuc46, who used two super hurts. Nobody even tried to save him from being killed.
Trivia
He was going to be called 'Bean', but the name was changed.
He was originally going to be a cheerful character.

Additionally, he was going to have arms.
Community content is available under
CC-BY-SA
unless otherwise noted.