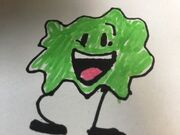 Bacteria Splat is an OC created by ButterBlaziken230.
Appearance
Bacteria Splat's body is a green splat (the type that someone could slip over) made of bacteria. For some reason, even though he is bacteria, his body is not very detailed. The colour is just green. He has a large mouth in the middle, with two legs (he does not have any arms).
Personality
Bacteria Splat is over-the-top crazy! Characters are often told by Spider Key to look after him, and make sure that he does not do anything that is too extreme. The only friends that Bacteria Splat has are only pretending to be his friend. He believes it, still. He has his own laptop that he likes to play on all the time. You would think that this is a benefit for the others, since he would be quiet, but that is wrong. He screams and shouts while playing.
Trivia
Bacteria Splat is based of off someone ButterBlaziken230 knows in real life. For the sake of privacy, they will not be revealed.
Candy Corn knows about him, but she is reluctant to be his friend, despite the fact that she is secretly weird.

This isn't even for the feeling that she is carefree, and can be weird but accepted. People like Bacteria Splat make her feel embarrassed to be weird.

Because of information on Question Box's Talk Page, Bacteria Splat is blocked on this wiki.
Community content is available under
CC-BY-SA
unless otherwise noted.