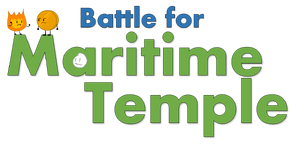 Battle for Maritime Temple
is a fan fiction created by
Satanchu
. The game is hosted by Trowel. There are 25 contestants, along with 8 debuting contestants soon to be revealed.
Cast
Episodes and Challenges
Episode 1: Playing with matches
Challenge: Be the last two contestants standing on the tower in an ear-cleaner battle.
Winner(s): Bow, Yoyleberry
Episode 2: And I am left to cell
Challenge: Escape a cell made of various minerals (including cake).
Winner(s): Persistent Pom Poms
Episode 3: Our first Cake at Stake
Challenge: Survive a series of deadly obstacles.
Winner(s): Firm Fruits
Episode 4: Jizz in mah pants
Challenge: Avoid being eradicated by a cloaked figure.
Winner(s): Firm Fruits
Episode 5: Just dance: BFMT Edition
Challenge: A dance off. Get the highest rating from the judges.
Winner(s): Bow, Pin, Yellow Face (Persistant Pom Poms)
Episode 6a: Missing sheets
Challenge: None
Winner(s): None
Elimination Order (Spoilers) (Duh!)
Records
Player to hold the "Like" record: Firey with 27 likes
Player to hold the "Dislike" record: Golf ball with 16 dislikes
Community content is available under
CC-BY-SA
unless otherwise noted.