A Rap by Chocolatey and Popsicley is a song that was heard in BOTO's Next Star.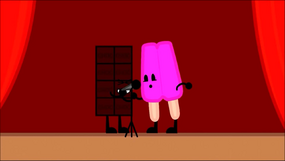 Lyrics
Alright, here we go! (sickest beatboxing ever)
Here we are on top of the world,
We're girls with the Z!
Popcicley, Chocolatey!
Unh!
We're both epic; Don't you see?
ABC, 1,2,3
Controlly's Awesome; Don't you think?
He's all gray and I'm all pink!
Bein' there for final two,
keep it simple, make it through!
We're gonna win the [voice: Censored, since we don't wanna reveal the grand prize.]
WE LIKE DONUTS!
Community content is available under
CC-BY-SA
unless otherwise noted.